Unlocking Futures: Spartronics & Ohio Life Sciences Manufacturing Month Event
Co-hosted event by Spartronics and OLS (Ohio Life Sciences)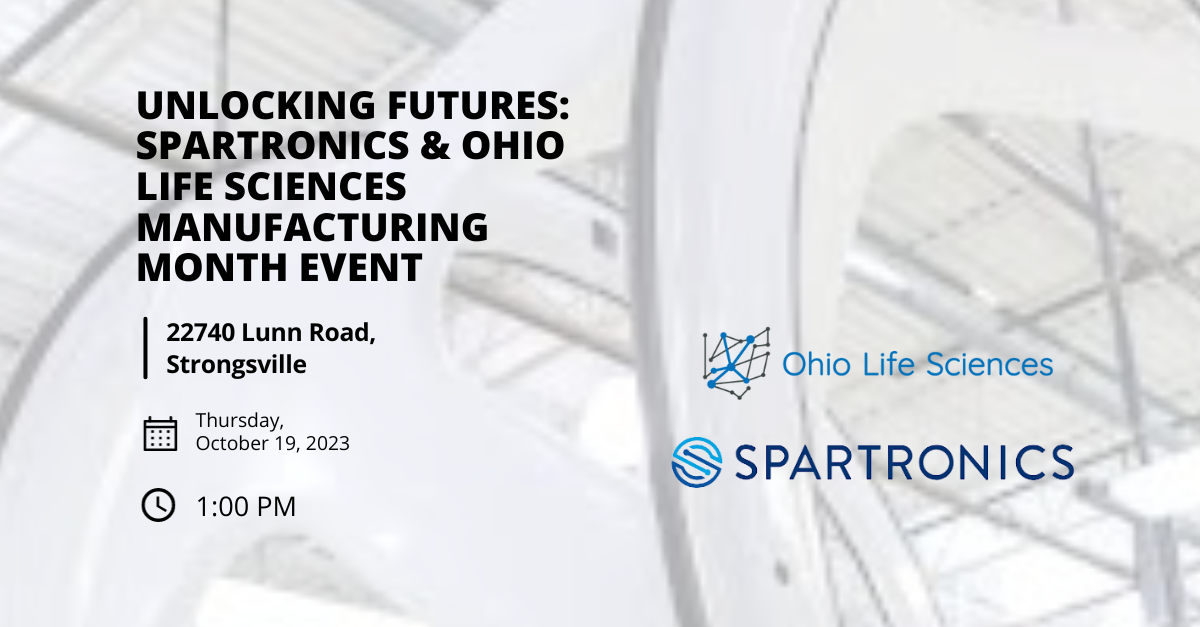 Discover the World of Manufacturing in Medical Devices and Life Sciences
This Manufacturing Month event, co-hosted by Spartronics and Ohio Life Sciences (OLS), is designed to showcase the boundless potential within Ohio's manufacturing workforce, with a particular focus on the medical device and life science industries. The Manufacturing Month event promises a diverse array of activities that will educate, engage, and inspire attendees of all ages to learn more about opportunities in manufacturing.
Date: October 19, 2023
Time: 1 PM
Location: Spartronics located at 22740 Lunn Road, Strongsville, Ohio.
Local Leaders and Aspiring Minds Unite
One of the key highlights of the event will be the convergence of state and local leaders who are deeply invested in Ohio's manufacturing future. Among the distinguished guests including Ohio Representative Thomas F. Patton, District 17, making this event a hub for both seasoned professionals and the innovators of tomorrow.
The event is registration only, and seats are limited. To register, please visit: https://www.eventbrite.com/e/unlocking-futures-spartronics-ols-manufacturing-month-event-tickets-733436467217?aff=oddtdtcreator
Exploring Viable Career Options
Spartronics, a provider of electronic contract manufacturing services and assembly across various vertical markets, including commercial aerospace, defense, medical devices, life sciences, and industrial markets, is your host for the day. Specifically, at their Strongsville, Ohio location, where they specialize in full box build assemblies and sub-assemblies and is an FDA-registered contract manufacturer.
Attendees will gain valuable insights into the vast career opportunities available with companies right in their own backyard. Spartronics and OLS will provide an in-depth company presentation, followed by an engaging tour of Spartronics state-of-the-art facilities. The highlight of the day will be an open roundtable discussion where participants can interact with industry experts, ask questions, and gain a deeper understanding of the dynamic manufacturing landscape.
Mark your calendars for October 19th at 1 PM and join Spartronics and Ohio Life Sciences at 22740 Lunn Road, Strongsville, Ohio, for an inspiring day that could reshape your future. Together, let's unlock the doors to a world of possibilities in the heart of Ohio's manufacturing industry.
Gated material window that will open and must be completed before able to access material.